Are you a pet lover?  Would you like to make money without leaving your home?  If so, you can do both.  Work from home playing and taking care of dogs for pet owners in your area.  You can get started today by signing up to be a pet sitter for Rover.com.  Here are a few other reasons why you should give Rover a try.
This post may contain affiliate links but I only recommend sites that I have personally researched, trust or use.
Benefits of Pet Sitting for Rover.com
Rover.com makes it easy for you to connect with dog owners who may need your services.
You have the ability to talk with other pet sitters and receive some valuable tips.
Rover.com protects pet sitters with up to 1,000,000 in protection for your services.
You get to decide when you want to work, who you want to work for, and when.
Pet sitting is a great way to earn extra cash or use it as income for a side gig.
You have access to a lot of dogs in their network.  This allows you to be more selective in your choice of dogs by age, weight, breed, etc.
Set your own schedule and the price you want to charge.
Rover has 24/7 support that comes with vet assistance.
Their mobile app makes it easy for you to manage your pet-sitting business on the go.
There are a lot of advantages to working for Rover.com but there are some myths when it comes to pet sitting for a company and I will go over some of those now.
Pet Sitting Myths
You can only pet sit with dogs?  No.  With Rover.com, you can also pet-sit for cats too.
You can only sit with pets in your home?  No.  You can either allow the pets to stay at your home residence or sit with them in their natural habitat.
It will take a while to get paid?  No.  Rover.com will pay pet sitters two days after they have completed a service.
Why Pet Sitting is perfect for remote workers?
Dogs can't be left alone for long periods of time and that's why the pet owners pay you to take care of them when they are unable to.  If you work outside the home full-time, you will have to adjust your schedule or accommodate those pets when you want to sit.  But if you work from home, you have the flexibility to do so whenever you want especially if you work part-time or have a non-phone work at home job or one that allows for background noise.
How to Get Started with Rover?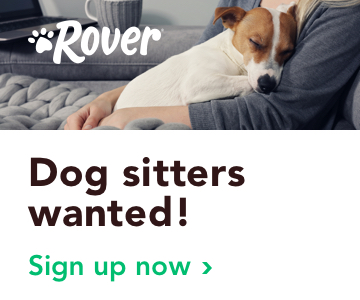 The first thing you need to do to get started as a pet sitter for Rover.com is to sign up here.  You will then be asked to create your own personal profile that will showcase your experience with pets and give details about your availability, knowledge, and more for pet sitters to see.  You will choose the types of dogs you want to care for.  After your profile is completed and accepted by Rover.com, you can start working.
How much will you make?
It really depends on how much you work and how many dogs and/or cats you sit with.  Pet sitters who care for a dog or cat overnight, make twice as much as those who don't.  You certainly won't be rich being a pet sitter but you can make around $18 to $25 per hour as a pet sitter for Rover.com.  Some pet sitters for Rover.com are able to make up to $1,000 each month.
Why do I recommend Rover? 
Rover.com will give you an opportunity to start working from home fast because they have such a large clientele.  Every service you provide with Rover.com will be covered by the company plus they offer ongoing pet education for pet sitters.  You will never have to worry about getting paid because they offer safe, secure, and convenient online payments to all their pet sitters.
Start a new side gig as a pet sitter for Rover.com.  In time, you may even decide to start your own pet-sitting business.